<![if !vml]>

<![endif]>
| Monday , December 8 , 2008 |
Bollywood is fun, not work!
<![if !vml]>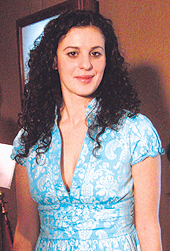 <![endif]>
Farah Hamed
Who's that girl? Have you seen her before? No? Well, she was one among many foreigners parading around the likes of Akshay Kumar and John Abraham in a few masala movies over the past few years.
Farah Hamed was until recently just an 'extra' in Bollywood. But the nobody in Mumbai was the toast of Cairo at the International Film Festival.
She was the leading lady of the gritty Spanish road movie Return to Hansala, which picked up the Golden Pyramid for the Best Film at the 32nd Cairo International Film Festival last month.
When Farah took the stage in a dazzling red gown to accept the award along with the film's director Chus Gutiérrez during the glittering closing ceremony at the Cairo Opera House, it was impossible to imagine that she was the one dancing in the background in many a Bollywood movie.
Farah grew up in Spain, but she was born in Morocco, a country deeply rooted in the very premise of Return to Hansala. The film follows Farah's Leila trying to get the body of her dead brother, drowned with many other illegal Moroccan migrants when a boat topples off the Spanish coast, back to her village in Hansala.
"That makes the film really special because I am related to the countries and I know how it works there," she told t2 on the boat carrying her across the Nile for the film's screening at the Good News Cinema in Grand Hyatt.
Farah's a trained actress having studied drama in Barcelona after completing a course in Spanish philology in the university of Granada (Spain). After starting out as an actress on Spanish stage and television, Farah travelled east to Japan and South Korea as part of an international theatre festival. Up next was a four-month trip to India that resulted in her brush with Bollywood.
"Oh, I love Bollywood!" she laughed. "I had watched quite a few films before I visited Mumbai. So when I got an opportunity to be part of a few films, I agreed."
Farah wasn't too keen to name the films she was an 'extra' in, but after some coaxing she admitted to bit roles in Jaan-e-Mann and Baabul. "It was fun… not that I had to do too much.... It was nice to see the Bollywood stars at work. Like Akshay Kumar, I remember, would always have girls around him! John (Abraham) was very popular with the ladies as well."
But is a return to Bollywood on the cards after after earning international acclaim as an actress? "I don't mind… One is work, the other is fun!" laughed Farah.
We got the drift — on the Nile!
PRATIM D. GUPTA